Experience the ALL NEW Shopping Experience BROADCASTED LIVE from World of Decor Studios in the Orlando Headquarters!
The mention of an auction can invoke images of used furniture & old china plus ad to it adrenaline-fueled bidding… it can feel intimidating to a first-time bidder.
In reality, bidding and auction savings has never been more accessible… simply bid online on brand new items from the comfort of your home.
Find What You Love, Register and Bid!
If you are unable to watch live consider leaving a maximum bid to give yourself the best chance of winning the items you have interest in.
Need to Know How to Register?
---
Registration is simple and only takes a few minutes.  Just click on the Register To Bid link at the auction home page.
---
The First Time Bidder? You'll Need a Hibid Account to Register For Our Auctions
---
If this is your first time participating, you will need to set up a hibid account to register. Once you have created a HiBid account then Registrations for future events will only be one-click away!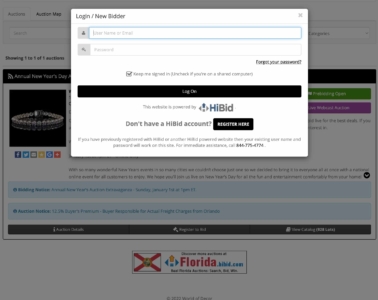 ---
Don't Forget to Review the Terms & Conditions
---
With so many events, take the opportunity to make sure you are participating in the right event for you.  Don't worry, credit cards are not charged unless you are the winning bidder.
---
---
There are no upcoming events at this time